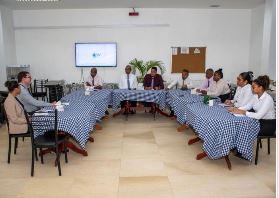 On Tuesday 3rd October 2023, the International Affairs Committee (IAC), led by Hon. Waven William, met with a delegation from the Seychelles Maritime Safety Authority (SMSA) for the purpose of reviewing the Nairobi Convention on the Removal of Wrecks. Accompanying the Chairperson was the Vice-Chairperson Hon. Wavel Woodcock, Hon. Philip Monthy, Hon. Egbert Aglae, Hon. Kelly Samynadin, Hon. Phillip Arissol, and the Deputy Clerk of the National Assembly Ms. Alexandria Faure. Providing assistance was the Committee Secretary Ms. Emma Didon and Assistant Secretary Mr. Darel Atala. In attendance from SMSA was the CEO Capt. Daniel Adam accompanied by the Senior Registration Officer Ms. Emmanuelle Hoareau.


The meeting began with a presentation on the Convention by Capt. Adam, providing the Committee with an overview and its implications to our small island nation. The main purpose of this Convention is to establish a legal framework for the prompt and effective removal of wrecks that pose navigational hazards and/or environmental threats to the seascape, applying to vessels of a 300 tonnage minimum. One of the major issues addressed by the committee was the cost burden for the authorities, seeing as Seychelles has limited financial resources assigned to wreck removals and salvaging operations. Reassurance was given that the Convention would ensure liability for wreckage removal would fall to the ship owners, thus eliminating the financial burden on the country. However, salvage contractors would most likely have to be outsourced from the region. The International Maritime Organization also considers the constraints of Small Island Developing States (SIDS) to implement its Conventions and make provision guidelines as alternatives to supplement the regulations.


The Committee welcomed the Convention, although expressing great concern on the exclusion of the fishing vessels from its provisions and their generally unregulated nature in international maritime law as they are at higher risk of creating wrecks. In particular, illegal fishing vessels and other pieces of equipment abandoned at sea. The IAC enquired on whether the Convention can be applied nationally to rectify this gap on fishing vessels. Capt. Adam assured the Committee that such recommendations can be considered.

The IAC committed to endorse the Convention and reassured its support to the Authority in all its endeavors, including the implementation of the Convention to ensure a balance of maritime safety and conservation of our marine environment and ecosystems.